Last weekend, D. and I were in Provence with our two sets of parents and lots of worries about them meeting each other (mostly unfounded). Everyone ended up getting along very well. We had mixed weather, but during the sunny moments (in between yummy meals) we did some exploring :
Le week-end passé mes parents étaient en Provence pour rencontrer les parents de D. - l'anticipation était stressante, pourtant ça c'est très bien passé. Il n'a pas fait beau tout le temps, mais nous avons profité des moments de soleil pour se balader un peu (entre les merveilleux repas, bien sûr).


Samedi, nous sommes allés à
Maussane les Alpilles
déjeuner dans un charmant restaurant
recommendé par les parents de D., qui s'appelle
La Place
et qui est supervisé de près par
Jean-André Charial . La carte est courte mais change souvent pour utiliser les produits de saison. Ma mère a particulièrement aimé le décor et elle a même insisté pour qu'on prenne des photos des toilettes -- la honte ! J'ai préféré me concentrer sur le dessert :
Saturday, on D.'s parents recommendation, we had lunch in the small town of
Maussane
at a delicious restaurant called
La Place
, which is supervised by a well-known chef in the area. It's right on the beautiful town square and has a short menu that changes frequently according the season and the fresh ingredients available. My mom especially like the decor and even insisted
on taking pictures in the bathroom ! - So embarrassing ! Of course I did take pictures of the artistic desserts....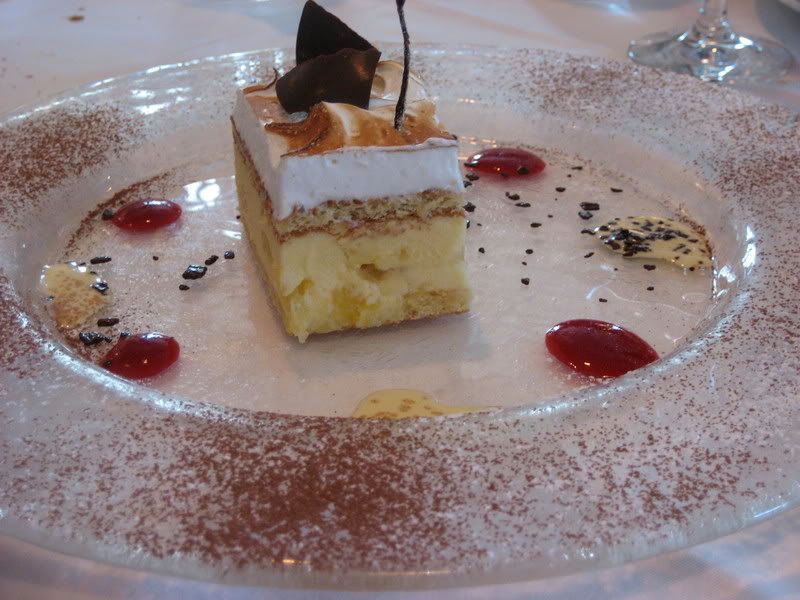 D.'s parents decided that such a good lunch deserved a siesta, while D., my parents and I decided to play tourist in the region and headed up to
Les Baux de Provence
, an adorable little town, which seems a bit like a museum with its traditional houses where no one really lives and lots of tourists. It was fun though.
Les parents de D. ont decidé qu'un aussi bon repas méritait une sieste, pendant que D., mes parents et moi avons joué les touristes en montant aux Baux de Provence, un village qui a tout l'air d'un musée avec ses maisons anciennes où personne n'habite et tous ses touristes.

Avant de rentrer, je voulais absolument m'arrêter au vignoble de Mas de la Dame qui est juste en bas des Baux pour faire goûter ce vin à mes parents, car on ne le trouve que dans la région.
Je suis particulièrement fan de leur Cuvée Gourmande Rouge 2004, mais mon père, qui adore les vins costauds, a préféré leur Réserve Rouge 2004. Quant à ma mère, elle a trouvé les vins sympas,
mais a été surtout emballée par leur tapanade :-)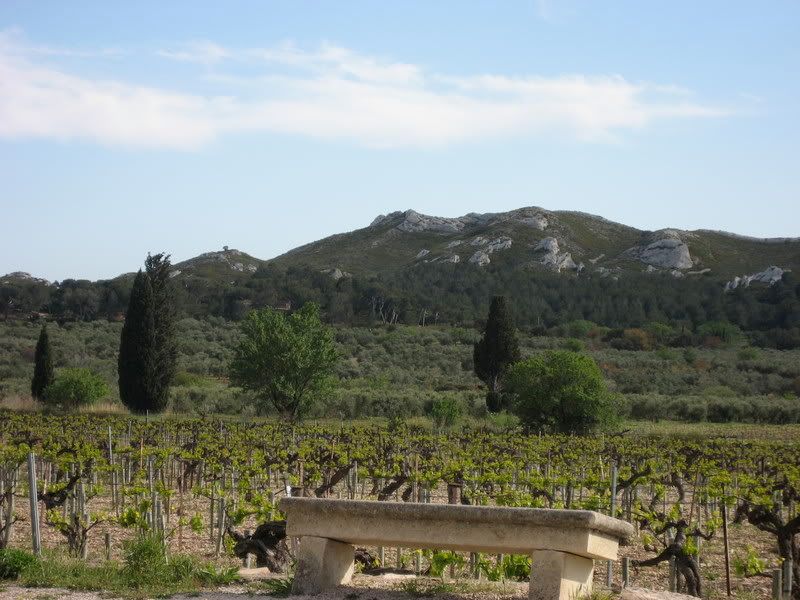 Before heading back, I insisted that we stop at the Mas de la Dame vineyard just outside Les Baux so that my parents could taste their wine, which you can only get in the region (and it's organic!). I'm a particular fan of their Cuvée Gourmand Red 2006, but my dad prefers wine with a kick and their spicy Réserve Red 2004 was more to his taste. My mom, for her part, tasted all their tapenades, yum, yum.

All in all, a lovely weekend with delicious food and wine!
En tout, un week-end fort sympathique avec beaucoup de bonne nourriture et de bon vin !