En français ici.
FINALLY! I've gotten the oven officially up and working and baptized with its first Sunday Baking ;-)
Everyone's been blogging about rhubarb from
Camille's Trendy Rhubarb-Apricot Crumble
, to David Lebovitz'
Red Wine Poached Rhubarb
, to Rosa's
serious
Rhubarb Addiction
. And I've been itching to make some rhubarb recipes of my own (D's favorite is strawberry rhubarb pie, classic in the US, but not well-known here - so I'm sure I'll be making some of that with the rest of my rhubarb).
I've also been meaning to try a recipe for Orange Cream Scones that my friend Jessica cut out of a magazine and mailed to me (a letter I was VERY happy to get!), so I thought, why not combine the two? I have to admit, I had never made scones before and I was a little nervous. Would they be crumbly enough? Would I be able to cut the butter in without any of the "correct" tools? And where would I find clotted cream in Paris? (I'm still open to any suggestions on that last one...)
In the end, I used a combination of two knives, some strange looking attachment on my French hand-held mixer that had (as explanation of its uses) a picture of a loaf of bread, a tart and a cake, and my fingers doing their best crumbling action. That seemed to work out ok, but it was a bit time consuming. The recipe says to use a pastry blender, so if you have one of those, you're in luck!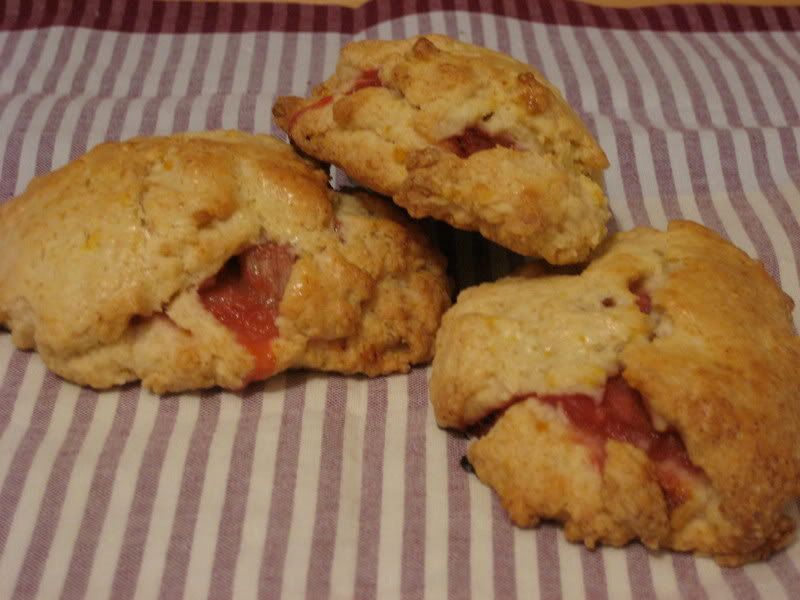 3 stalks rhubarb, washed and cut into small pieces (
not
peeled
)
2 Tbsp lemon juice
2 Tbsp sugar
2 1/2 cups all-purpose flour
1/2 cup plus 2 Tbsp sugar
2 tsp baking powder
1/2 tsp salt
1/2 cup butter, cut into pieces
1 Tbsp orange zest (
that's grated orange peel for those not privy to the
secret
baking vocabulary
)
2/3 cup plus 1 Tbsp heavy cream
1/2 tsp vanilla extract
First you have to make what we could elegantly describe as the "Rhubarb Mush". I've set the three ingredients off from the rest up top; in a frying pan, combine the rhubarb, 2 Tbsp lemon juice and 2 Tbsp sugar. Cook on low heat until the rhubarb becomes mushy (that's also secret baking vocabulary, very technical, just trust me), about 15-20 minutes. Set aside and let cool.
I had some leftover rhubarb mush, which I stuck in the fridge and later spooned over the scones for extra rhubarb-i-ness (I'm on a vocab roll today)!
For the scones: Preheat the oven to 375F and line a cookie sheet with parchment paper.
In a large bowl, combine the flour, 1/2 cup sugar, baking powder, and salt. Using a pastry blender (
or whatever you can get your hands on
), cut the butter into the dry ingredients until crumbly. Add orange zest and mix well.
In a small bowl, combine 2/3 cup cream and vanilla extract
(the original recipe uses orange extract. I didn't have any, but if that inspires you, go ahead and substitute it back in
). Add cream mixture to dry ingredients, stirring until dry ingredients are just moistened.
Here, the recipe tells you to
roll dough to 1/2 thickness and using a 2 1/4-inch round cutter, cut scones
. Yikes! What if you don't have a 2 1/4-inch round cutter? What if (God-forbid!), you don't have any cutter at all??
Ok, take a deep breath and then go ahead and put your (
washed
) fingers in the dough. Take out a chunk and flatten it to about 1/4 inch thickness. Spoon some rhubarb mush in the center, fold it over and place on the cookie sheet. Repeat with the rest of the dough. Brush the scones with the remaining cream and sprinkle with remaining sugar (
I forgot the sugar, but I'm sure it's a yummy touch. You might even try cinnamon sugar if you like cinnamon
).
Bake 18-20 minutes, or until lightly browned.
I made some plain scones as well just to have some variety: