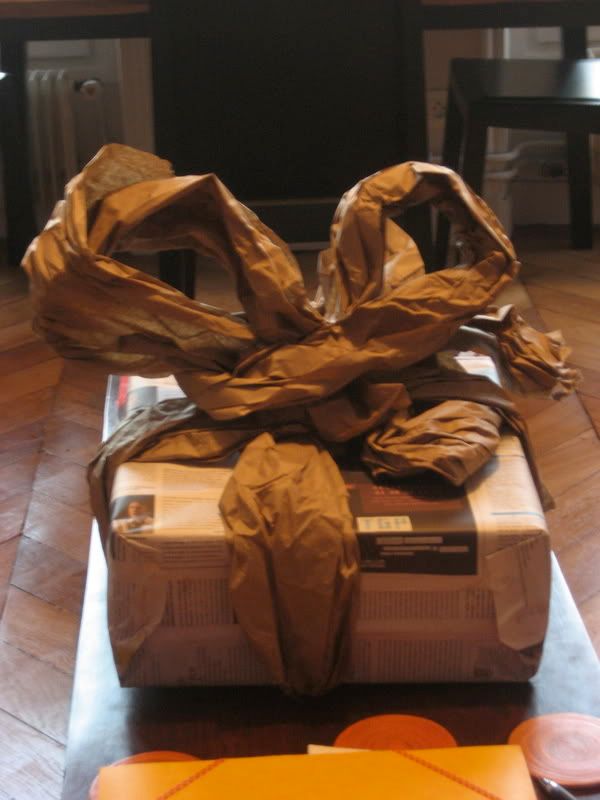 For inexplicable reasons (considering they ordered it almost a month ago) my birthday present from my parents arrived yesterday in this extremely heavy, mysteriously wrapped package (wrapping by D).
Pour des raisons obscures, alors que mes parents ont commandé mon cadeau d'anniversaire il y a presque un mois, il n'est arrivé qu'hier. Quand je suis rentrée, il y avait ce paquet cadeau (fait par D.) mystérieux qui couvrait une boîte TRES lourde.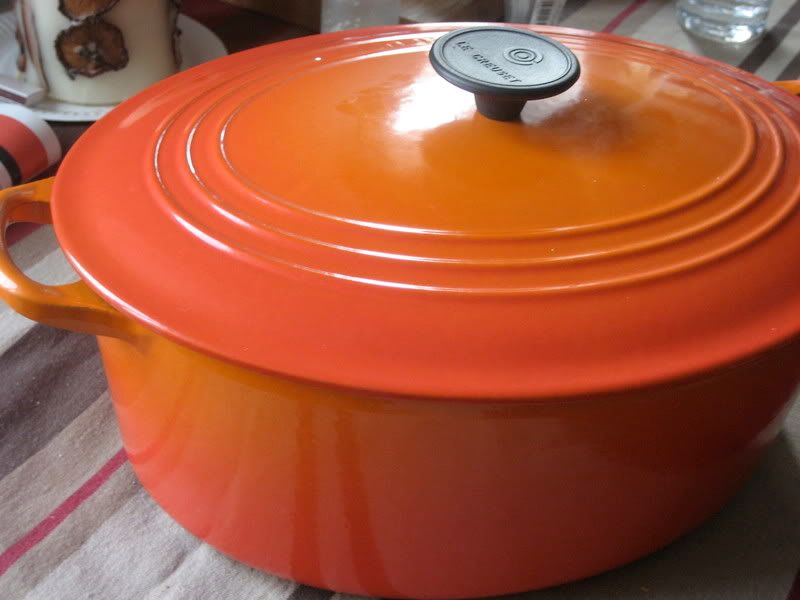 When I opened it, I was jumping up and down like a 3-year-old at Christmas and (after calling my parents) immediately started making plans to use it. I had a piece of pork for roasting that I had got on sale at the supermarket and way too many apples from the
CSA
, so I thought I might try putting the two together. I rolled the roast in sea salt, pepper, cinnamon and ground coriander. Melted some butter in my wonderful casserole and browned the pork on all sides. Then I turned off the heat, added a few shallots and some juniper berries (which I bought for my
coq au vin
), covered and stuck the whole thing in the oven for about 1 hour. This is the first time I've had a pot that goes on the stove and in the oven!
Quand je l'ai ouvert, j'étais comme une gamine à Noël, je sautais partout ! Il fallait l'utiliser tout de suite et j'avais le projet parfait : un rôti de porc avec des pommes (du panier bio). J'ai roulé le porc dans un mélange de gros sel, poivre, cannelle et coriandre moulues. J'ai fait fondre du beurre dans la superbe cocotte et j'ai fait doré le porc. Après, j'ai coupé le feu, j'ai ajouté quelques échalottes et des baies de genièvre (que j'ai acheté pour mon coq au vin) et j'ai mis le tout dans le four pendant 1 heure (car la cocotte va sur le feu ET dans le four, ouais !!).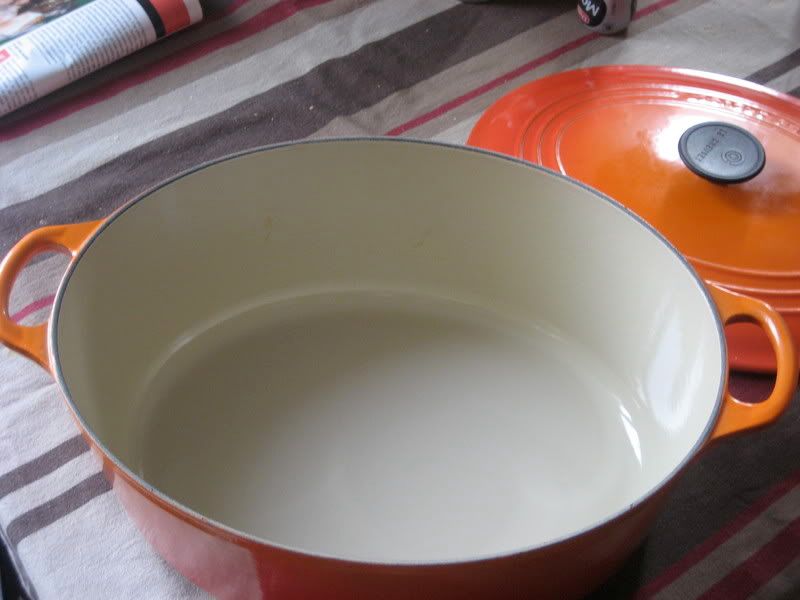 While it was cooking, I peeled, cored and quartered 8 apples and cooked them on the stove in butter and cinnamon before adding them to the casserole in the oven about 15 minutes before the end of the cooking time. When it was done, I took the roast and apples out of the casserole so D. could cut the roast, and stuck my super casserole back on the stove to make gravy. I deglazed with white wine, scraped up all the roast and caramelized shallot bits and then added veggie stock and flour, cooked it down and poured it over the roast. Best birthday ever!
Pendant que le rôti était au four, j'ai cuit les pommes (pelées et coupées en quartiers) sur le feu avec du beurre et de la cannelle. Je les ai ajouté au rôti 15 minutes avant la fin de la cuisson. Quand c'était cuit, j'ai enlevé le rôti et pommes de la cocotte que j'ai remis sur le feu pour faire une sauce avec les jus. D'abord j'ai mis un peu de vin blanc et j'ai gratté pour avoir tost les petits morceaux de rôti et échalotte caramelisés qui restaient. Après, j'ai mis du bouillon de légumes et de la maïzena et j'ai laissé bouillir jusqu'à ce que cela devienne une sauce épaisse que j'ai versé généreusement sur le rôti. Je peux dire que j'ai eu un anniversaire sur presque une semaine avec plusieurs repas merveilleux !