When I left the house this evening,
(5pm November light)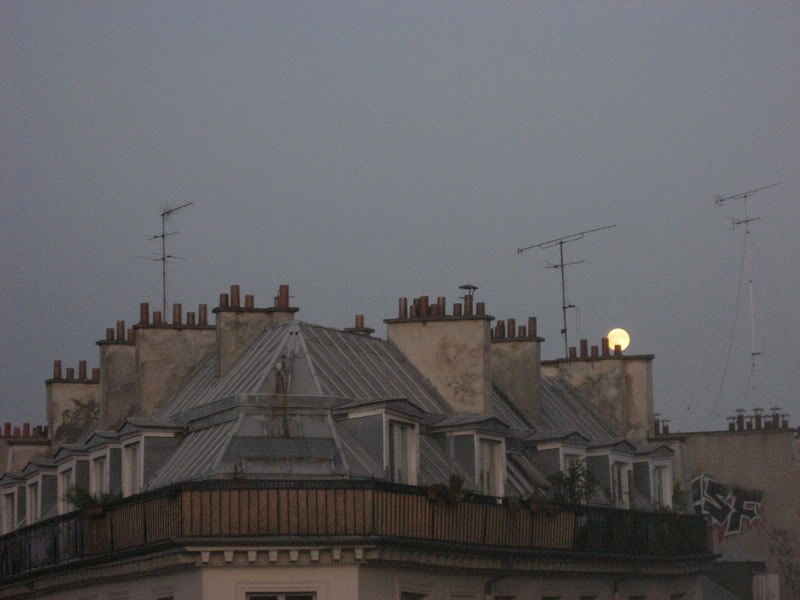 I was surprised by the moon
hanging – as if string-suspended
to light some private corner o
f the sky
like a white paper lamp in a Chinese r
estaurant
over a table for two
Or a thought – romantically outmoded:
elbows on the windowsill,
you and I watching the silvered stars come out
over the parked cars of a quiet street.
Tea over at
Tea & Cookies
has been talking about
the moon
and I have to say, it's a subject that I feel very close to. I love watching the moon rise over the tops of the Parisian buildings, as it did so spectacularly the other night.
But of course my favorite is the moonrise over the ocean. I've spent many summer evenings writing bad poetry in an attempt to capture the splendor of it. Tea's favorite is the harvest moon and I can understand that. My favorite season is autumn in general (and no, not just because my birthday is in the fall, though that helps). I love the crisp air, the changing colors, the abundance of fruits and vegetables being harvested. It starts to get a bit chilly for summer salads, and you get to bring out the warm comfort food: noodles, soups, etc. One of my comfort foods is polenta. I love how you can do almost anything with polenta. It's like pasta or risotto that way. Boy, those Italians have it down, don't they (though if polenta is Italian, corn is American so it feels home-y).
This week I made my first polenta of the season. I'm definitely a lazy polenta maker (shame on me, I know). I buy the very fine-ground cornmeal so I don't have to cook it too long. I'm sure you'll find someone to tell you that the texture isn't as good, but I find it smooth and creamy and I'm not complaining. Feel free to borrow my ingredient ideas and make the polenta differently, however, if you're so inclined. I served this dish once with guacamole, and as leftovers with roast green beans; both were delicious, if I do say so myself.
3 cups stock or water
1/2 tsp salt
1 cup cornmeal
2 Tbsp butter or margarine
1/2 tsp herbes de Provence
1/8 tsp crushed red pepper flakes (optional)
1/2 cup grated Parmesan
1/4 cup sliced sun-dried tomatoes
two handfuls fresh cherry tomatoes, halved
a nice chunk of feta to taste
(Yes, I noticed that my measurements get less precise as I go along, but I was getting hungrier and hungrier!)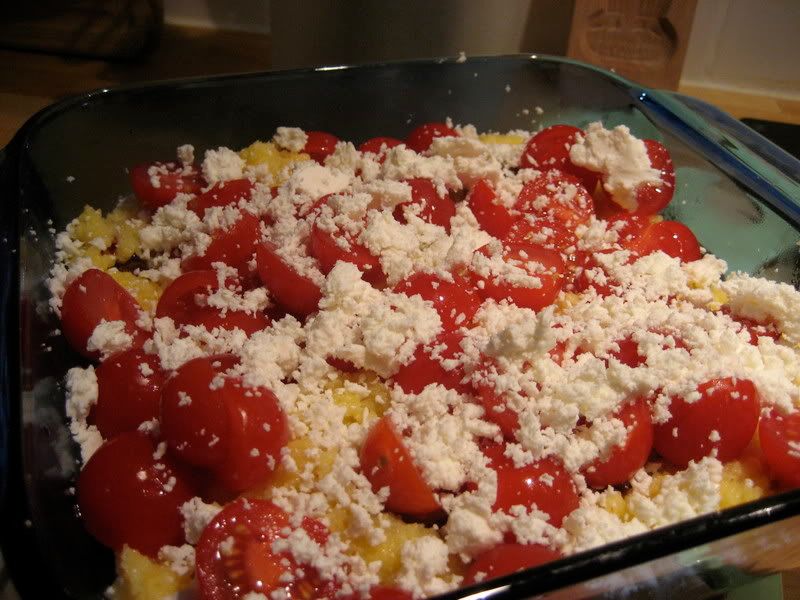 Preheat the boiler (or oven).
For the polenta: bring the stock or water to a boil with the salt. Add the cornmeal in a steady stream while whisking briskly. Stir in the butter, herbs and red pepper flakes. Cover (the polenta likes to try to jump out of the pot and you have to head it off quickly!) and simmer for 5-10 minutes until thickened (fine-ground cornmeal cooks in about 5 minutes), stirring often. Remove from the heat and stir in the Parmesan and sun-dried tomatoes.
Pour the polenta into a baking dish (8X8 for example) and lay the cherry tomatoes on top. Sprinkle generously with feta and broil for about 3 minutes, until the cheese is golden on top. (If you don't have a boiler, you can put it in the oven for a bit longer to get the same results.) Serve warm while watching the moon rise.