So here we are, D. and I, official owners of our very own 2 bedroom apartment in the 18th arrondissement ! Er, well I should say it WILL be a 2 bedroom apartment, but currently it's one heck of a mess (hence our ability to afford it). Now we have the major job (along with the builder who will be doing things we can't like demolishing and rebuilding walls), of redoing the apartment in the next few months. What does this have to do with recipes, Hopie, you ask? It's not like we come here to hear your life story!! Get to the chocolates! (Ok, see what happens: when you don't leave comments, I'm forced to make up conversations with you...not good!)
Well, I'm getting to that. So, for our first day of apartment work, the mission was to bring something to snack on that could be a reward for hard work, but also keep us going strong all Sunday afternoon. I've been meaning to test these
Peanut Butter Chocolates
from Jill at
Simple Daily Recipes
for a while and I thought, chocolate = reward, peanut butter = energy, this is PERFECT!
Unfortunately, I'm not quite as talented in the chocolate department as
Jill
because instead of coming out smooth and beautiful with that cute drip-dollop on top, mine came out all bumpy, saved only in a appearance by the toasted, shredded coconut I sprinkled on:
my pb/coconut chocolates
Where did I go wrong?? Well I mean, I didn't follow her recipe exactly, but I COULDN'T! Not all of the ingredients can be bought in France (chocolate chips for example). Even peanut butter is super expensive and imported from the US. And then, of course I had to add my own touches... :-)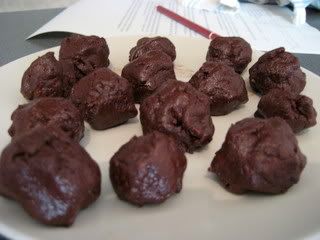 Mostly I had problems with the chocolate. I could tell that the first batch I melted was not the right consistency and I think that had to do with the mix of shortening and chocolate I used. I quickly shaped it into balls so as not to waste:
Then, I melted some more chocolate, this time just with a little water, which turned out better, but, OH NO, I overcooked it -- clumpy again! So I just globbed it onto my poor chocolates anyway... And it was delicious, if not very aesthetic.
So here's my adaptation; I'm hoping you'll have better chocolate karma than I.
Peanut Butter Chocolate Balls
(I made 1/2 Jill's recipe because I didn't have room in my fridge for more, but you can always redouble it.)
Ingredients:
1/2 cup crunchy peanut butter (I like having the peanut bits in it!)
1 Tbsp peanut or other oil
1/2 cup flour
1/2 cup powdered sugar
2 Tbsp margarine, softened
200g/7 oz semi-sweet baker's chocolate
1 Tbsp shortening
wax paper
1/4 cup shredded coconut, toasted (if you don't know how to toast it, refer to
this entry
)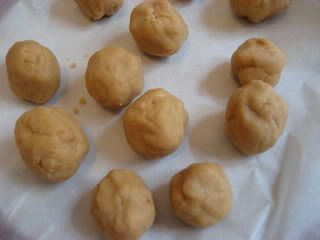 Mix with and electric mixer, or cream well with a fork: peanut butter, oil, flour, powdered sugar, and margarine (you can leave out the oil if your peanut butter is very oily, or if you use creamy peanut butter). Finish with your fingers to form a ball of dough.
Line a plate or cookie sheet with wax paper. Using about 1 tsp of dough each time, roll into balls and place on wax paper. Chill in fridge until dough becomes firm (I did about 1/2 hour, but Jill says as little as 15min might work).
On low heat, or in a double boiler, melt the chocolate with the shortening. AS SOON AS it's melted, remove from heat and dip in peanut butter balls with the help of a fork. Coat evenly with chocolate (if you can!) and place back on wax paper. Use a small spoon to sprinkle toasted coconut on top and refrigerate until chocolate sets (10-15 minutes). Then stick them in a Tupperware and take them apartment redoing with you!