En français ici.
Today's quiz : what's simple to make, doesn't cost a lot, tastes like heaven and may make your significant other propose (or, why not, propose again if you're already married)?
Caramelized onion and goat cheese tart, of course!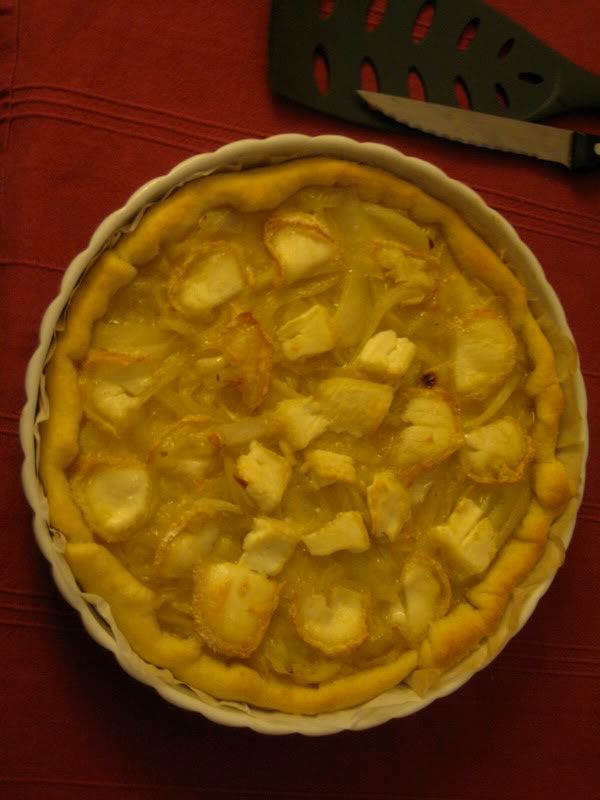 Well those of you who follow regularly may have noticed that there was, alas, no Sunday Baking this week. That is because I, personally, spent about 15 hours painting the new apt. between Saturday and Sunday and could hardly lift a fork to my mouth by end of each day, much less do any measuring/whisking/greasing pans, etc. Usually cooking relaxes me, but when your joints and muscles are turning into applesauce (I'm approximately translating from the French expression there) and you just want to eat and crawl into bed, it's not exactly the most calming of activities. Saturday we went out, but Sunday we still had to eat something and there was too much good food in the fridge to justify getting takeout.
Luckily, I had been perusing this amazing goat cheese cookbook called
Pur Chèvre
I got at the
Salon du Livre
and decided it was about time to test some of their recipes!
Ingredients:
1 pie crust (pâte brisé)
2 large onions
3 Tbsp butter
2 Tbsp sugar
about 1/2 a goat cheese -- not too hard and not too fresh (
the book suggests Selles-sur-cher, Sainte-maure de Touraine, or Valençay, but I just used a combination of two different ones that looked yummy at the market
)
olive oil
salt
Preheat the oven to 400F. Slice and sauté the onions in the butter for 3-5 minutes. Add the sugar, stir well, and let cook another 3-5 minutes.
Roll out the pie crust and put it in a tart pan, mine looks like this (er, when it's empty):
You can put down wax paper first if you like, which is what the French tend to do...
Oil the crust inside the pan with a basting brush or your fingers and sprinkle on some salt. When the onions are ready, pour them into the tart and lay slices of goat cheese on top.
Cook for about 15 minutes until the goat cheese starts to turn golden. Let cool a few minutes (if you can wait!) and serve as an appetizer or a meal with salad or a fresh veggie. Tada!